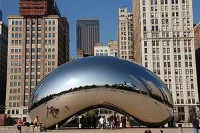 The Cloud Gate is a unique and popular public sculpture that is located at the Millennium Park within the Loop community of Chicago, Illinois. It is the centerpiece of the ATT Plaza building and is one of the more popular public sculptures located in the city.
Cloud Gate Profile
The Cloud Gate, also more commonly known as "The Bean" by the locals, was built from 2004 to 2006. It was a sculpture that was designed by notable Indian-born British artist Anish Kapoor, whose design was one of those chosen in a competition for a number of public artworks to be constructed on the newly opened Millennium Park. The structural design was provided by freelance engineer Chris Hornzee-Jones and British engineering firm Atelier One. The structure fabrication was done by Performance Structures, Inc. due to the firm's ability to create nearly invisible welds, an important characteristic needed for the sculpture.
Cloud Gate Design
The Cloud Gate follows a design that was inspired by liquid mercury. It features a bean like shape composed of a seamless, stainless steel with a mirror-like surface. Its reflective surface is able to reflect the Chicago skyline, but in a somewhat distorted manner due to its elliptical shape. This has become its popular feature.
The sculpture design also features the omphalos, an indentation on the underside of the sculpture big enough for people to pass through. The high point of the omphalos is 27 feet above the ground. As people walk through its concave underside, they may be able to see their distorted reflections, similar to those made by fun-house mirrors. Because of this interesting feature, the Cloud Gate sculpture has become one of the more popular landmarks in the city frequented by locals and tourists alike.
Art – GuideTo.Com